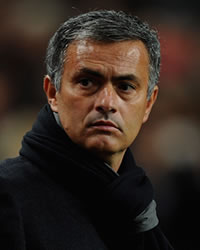 Jose Mourinho has responded to Arsene Wenger's criticism of Real Madrid's controversial double sending off in their Champions League win over Ajax by calling into question the Frenchman's recent record at Arsenal.
The Spanish giants hit the headlines after Sergio Ramos and Xabi Alonso were both dismissed in the 4-0 victory which confirmed Real's qualification, and with the red cards ruling them out of the final group game.
Uefa has subsequently charged both players and manager with improper conduct over the incident whilst Wenger branded the sendings-off as "horrible" although he did concede that doing the same thing had "crossed his mind" previously.
However, according to The Sun, Mourinho has hit back at Wenger and questioned the lack of silverware at the Emirates and the Gunners' defeat to Braga on midweek.
"He should especially explain to Arsenal supporters how he can't win one single little trophy since 2005," said the former Chelsea boss.
"Instead of speaking about Real Madrid, Mr Wenger should speak about Arsenal and explain how he lost 2-0 against a team in the Champions League for the first time."
"The history about the young kids is getting old now.
"[Bacary] Sagna, [Gael] Clichy, [Theo] Walcott, [Cesc] Fabregas, [Alex] Song, [Samir] Nasri, [Robin] Van Persie, [Andrey] Arshavin are not kids. They are all top players."
Of course this is not the first time the two men have clashed; back in 2005 as Chelsea manager Mourinho famously branded Wenger a "voyeur" after the Frenchman's comments following the Blues' draw with Everton and a League Cup defeat to Charlton Athletic.
Source : www.goal.com